​TEXAS KARAOKE STAR WINNERS!
GRANDCHAMPION : SARAH SUTTON
1ST RUNNER-UP : AMYFAITH RAGSDALE
2ND RUNNER-UP : MAY LEDESMA
THANKS TO OUR SPONSORS, DONORS, CONTRIBUTORS AND EVERYONE WHO JOINED US ON THIS SPECIAL, HOLIDAY EVENT!
SEARCH FOR TEXAS KARAOKE STAR
SEASON 3
​PROMOTIONAL VIDEO
BEHIND THE SCENE PHOTOSHOOT OF ELISA CHAN
​CANDIDATE FOR TEXAS REPRESENTATIVE DISTRICT 122 Elisa Chan is the founder of Alamo Asian American Chamber of Commerce and the Asian American Alliance of San Antonio. She was also formerly a City Councilwoman for District 9 in San Antonio. She is also President of Unintech Engineering which leverages millions of dollars in infrastructure contracts for San Antonio and Austin. Because of her influence in the community, I will have her endorse MGI on a testimonial video as I will have her start using the products. I'm going on a trip with her to Phoenix next weekend and will discuss MGI with her.
---
KAIN NA FILIPINO CUISINE
RIBBON CUTTING and REOPENING
OCTOBER 30, 2021
SAN ANTONIO, TEXAS
RIBBON CUTTING LED BY:
(L) GENALINE ESCALANTE-VALDEZ
PRESIDENT -- ALAMO ASIAN AMERICAN CHAMBER OF COMMERCE
& KAIN NA OWNERS
​ASIAN COMMUNITY AFFAIRS
SAN ANTONIO, TEXAS
August 11, 2021
**************************
An exclusive breakfast event/meeting
San Antonio asian american leaders w/ San Antonio Mayor Ron Nirenberg, Congressman Joaquin Castro and Judge Peter Sakai.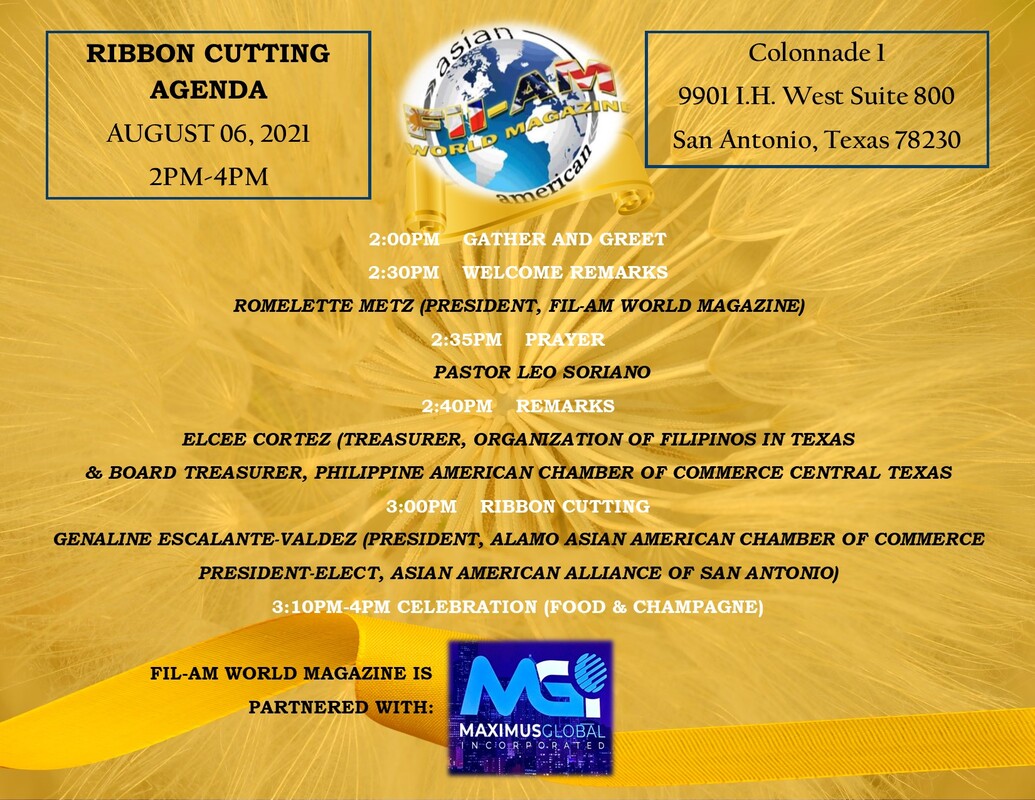 ---
PLEASE SAVE THE DATE! You are INVITED!
MGI Product Launching in San Antonio, Texas ON August 07, 2021, 1pm-4pm.
Please RSVP and CALL 210-693-3112 or
email to filamworldmagazine@gmail.com or send a message to

Josephine Mack

Luzminda Jalog Frank

An Lederle Minoza


NOTE: VENUE WILL BE PROVIDED ONLY FOR GUESTS WHO CONFIRMED.
---





​Fil-Am World Magazine publisher/owner, Romelette Metz, meet with Miss Universe Philippines, Rabiya Mateo in Austin, Texas on June 11, 2021, at the Archer Hotel.
The event is hosted by Gigi Hobson.
​2021 Luxe Summer Show " Best of the Islands" Fashion Show. Watch the beautiful models wearing one of a kind, meticulously and professionally crafted FILIPINIANA gowns, evening gowns, LUSCIOUS BIKINI designs (@ TIME 9:42), etc.....
Featuring Filipino-American Renowned International Fashion Designers; ***Iris Viacrusis ***Doris Diaz
Produced and Brought to you by: Gigi Hobson
Jewelries/Accessories by Theresa Guck
ELECTION MAY 2021
A dialogue with San Antonio City Mayor Ron Nirenberg
DISCUSSIONS:
*COVID-19 Vaccination
*Prop A
*Prop B
*Current Real State Challenges in SA
*Etc.....

​
Election MAY 2021
A dialogue with Irma Iris Duran de Rodriguez, a candidate for Board of Trustees NISD District 5
April 17, 2021 @2pm​

Virtual Day at the Capitol; Meet and Greet with Texas Lawmakers

Gene Wu, (D) Texas House of Representatives, District 137
Jacey Jetton, (R) Texas House of Representatives, District 26
Celia Israel, (D) Texas House of Representatives, District 50
Eddie Rodriguez, (D) Texas House of Representatives, District 51
| | |
| --- | --- |
| | Main Plaza (Downtown) San Antonio, Texas. Here with Genaline Escalante-Valdez and Gina Ortiz as Asian/Filipino Americans along with other Asian American leaders to make a difference by signing or supporting the Petition to the Senate to do a universal background check, in a federal level, for gun purchase. Everyone has a right to bear firearms to be able to protect yourself, your family and friends. However, it's best to have a more strict and broad background check before anyone is allowed to purchase. |
---

CONGRATULATIONS, Lilly Guindy for the success of your Ramadan Festival and the launching of your Monthly Arab American Affairs magazine in SA.